Earlier this year, I wanted to set up security cameras to watch my driveway. In this article I explain my approach, which involves leveraging the existing outside light fixtures, and requires no attic wiring or excessive wall drilling.
My approach may be a bit unorthodox, but it works for me, leveraging Apple HomeKit to manage my outside lights, since the cameras are now continuously powered by the light fixtures themselves. The "correct" approach would be to get the proper camera wiring done so you do not have to fiddle with the fixtures like I did. Still, this works for me and my home, and has proved adequate for nearly a half year.
If you are considering installing outside security cameras for your home and property, perhaps you can adapt my approach to your own needs. Read on for all the details!
---
Parts List
Before the explanation, here are all the parts and supplies I acquired. I also used basic tools such as screwdrivers and drills (for mounting the cameras), as well as zip-ties. Each image links to their (as of this writing) Amazon page, so beware the links could eventually expire, and so the descriptions are provided as well.
(Hopefully it goes without saying that these are non-affiliated and non-sponsored products, super-small-time blogger that I am. They are merely what I used.)
Wall Lanterns (2)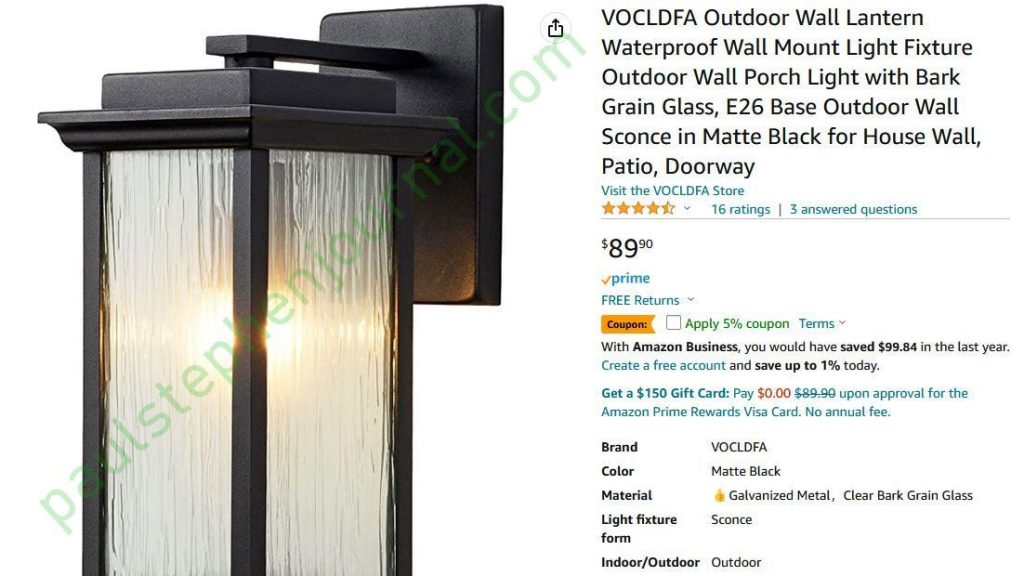 I needed specific lanterns that would allow sufficient room to house the additional hardware for the camera plugs while having enough space for the light bulb. This long design was perfect.
Reolink Outdoor WiFi Ultra-Wide Camera
Reolink 2K 4MP Outdoor WiFi Camera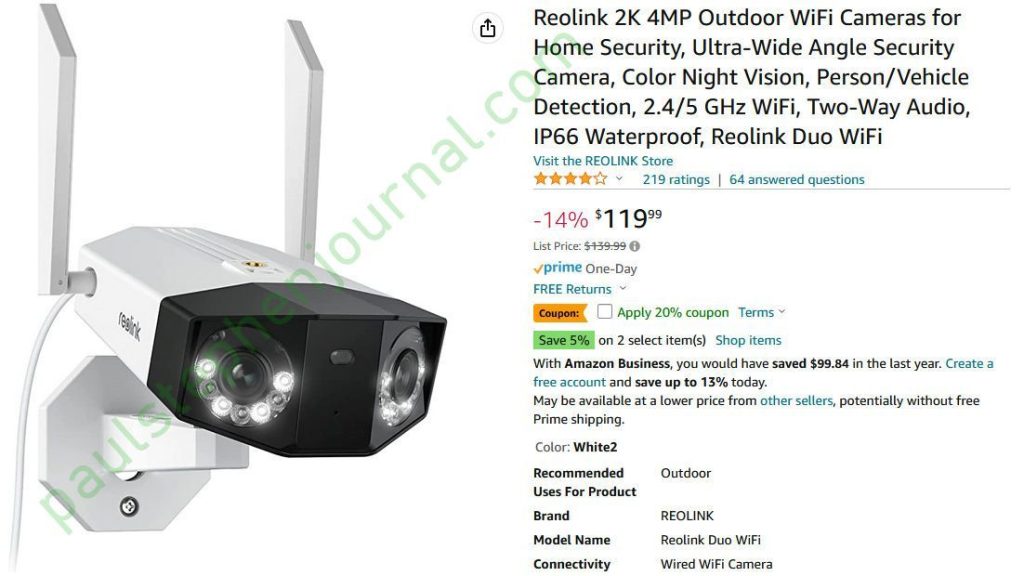 This is the first of two cameras which provides the widest view of my driveway and surrounding property. It effectively "watches" the other camera passively as well. Possibly most importantly, this camera illuminates for a set period when someone approaches the perimeter of my front property, alerting potential wrongdoers that they are being monitored.
Reolink Outdoor WiFi 5MP Camera
Reolink Outdoor Security Camera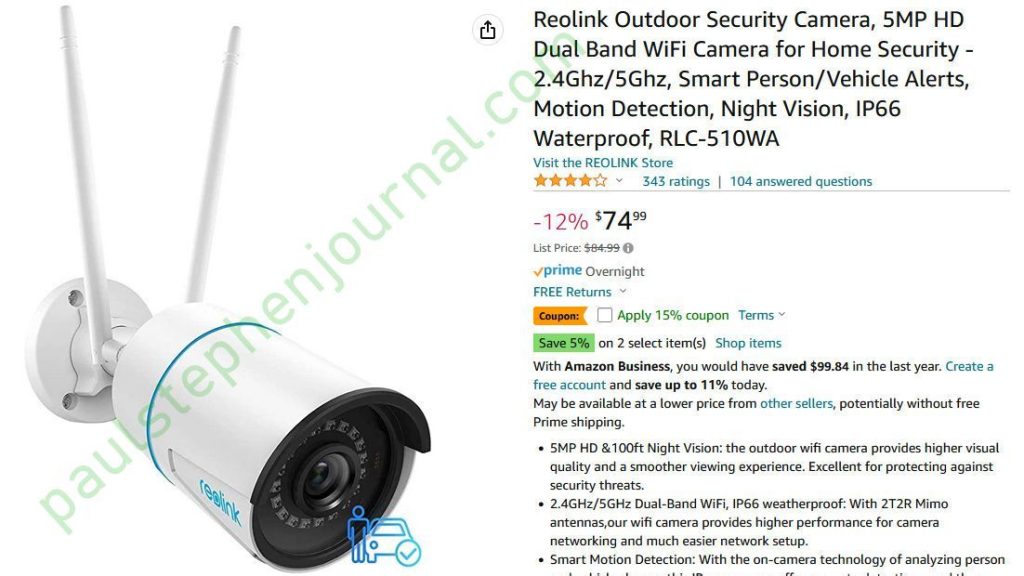 The second, smaller camera keeps watch just on my driveway. Two cameras for this purpose may be considered overkill, but I prefer the method of "camera watching the camera." It is not direct here, but makes it very difficult for someone to approach either camera without being noticed.
If I was asked for a recommendation on only one camera, I would go with the ultra-wide if at all possible, or at the least, find a camera that can activate a spotlight on motion.
Why did I go with Reolink? Their cameras are able to integrate with Surveillance Station running on my Synology NAS. Though the cameras have internal SD cards, those saved videos are useless if the camera itself is stolen. I have set up my Reolink cameras to integrate with Surveillance Station so recordings are saved to my NAS in real time.
Non-Reflective Matte Electrical Tape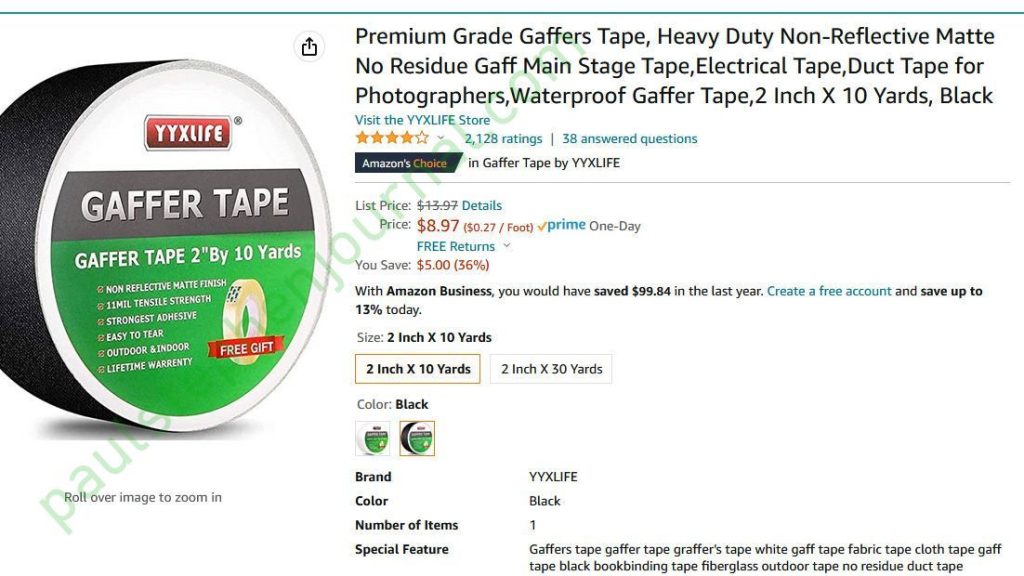 This tape is used to protect and cover Reolink's white wires. I wanted "matte" to reduce the tape's reflectiveness, common with most electrical tapes.
Basic Rocker Electric Switch
GE Grounding Paddle Rocker Switch, Single Pole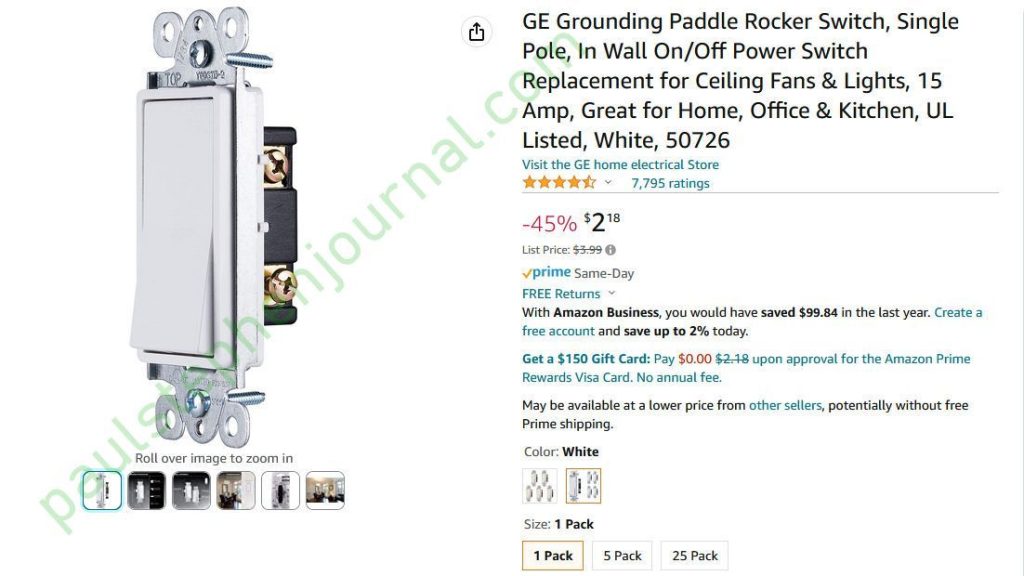 This part is specific to my circumstance, as previously I had a smart switch controlling my outside front lights. I needed a basic non-smart switch which will always be on, to power both the new smart bulbs and security cameras. The "rocker" style fits the switch designs in my house.
Three-Prong Light Socket Adapter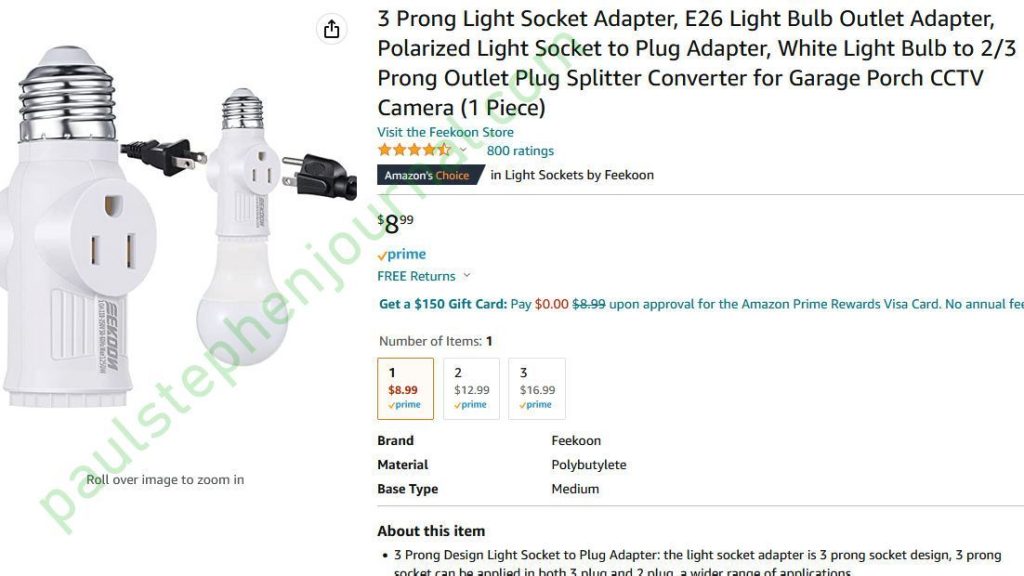 Powering both the outside lights via the lanterns and the security cameras simultaneously, without installing new electric work onto the house, requires a solution provided by this special light socket. As shown later in the article, this socket will provide space for the camera's power plug within the lantern casing.
Smart Bulbs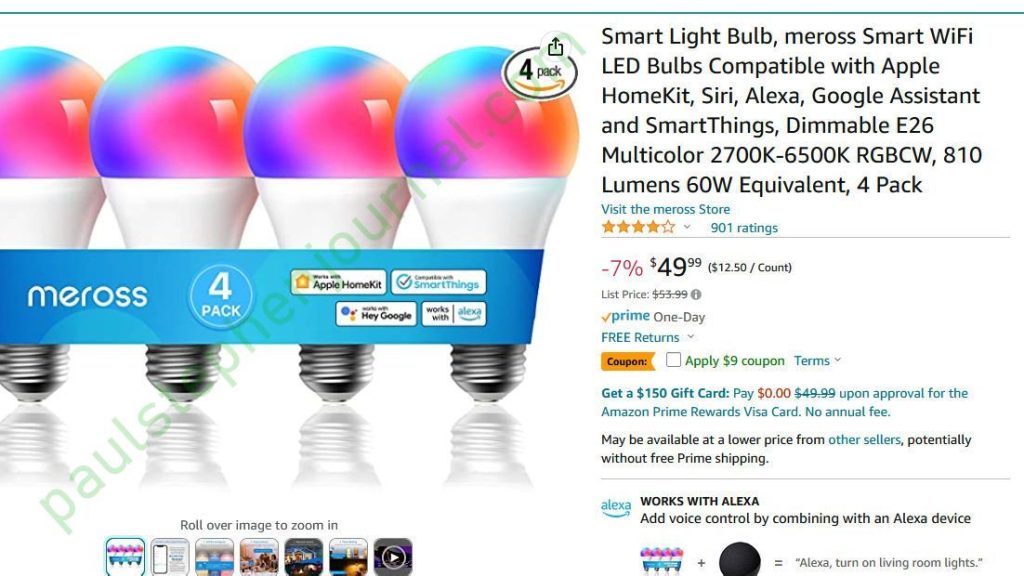 These smart bulbs replaced the basic lights for my porch and garage lanterns, which are all controlled by a switch at my front door. I went with meross as I have had good success with their smart switches as replacements to my "first gen" smart switches that were gradually failing (I have replaced all of my smart switches with meross by now).
As you can see from the description at amazon.com, a variety of home smart systems are compatible with these bulbs. I use HomeKit since my house is running the Apple ecosystem.
WiFi Extender
TP-Link AC2600 WiFi Extender(RE650)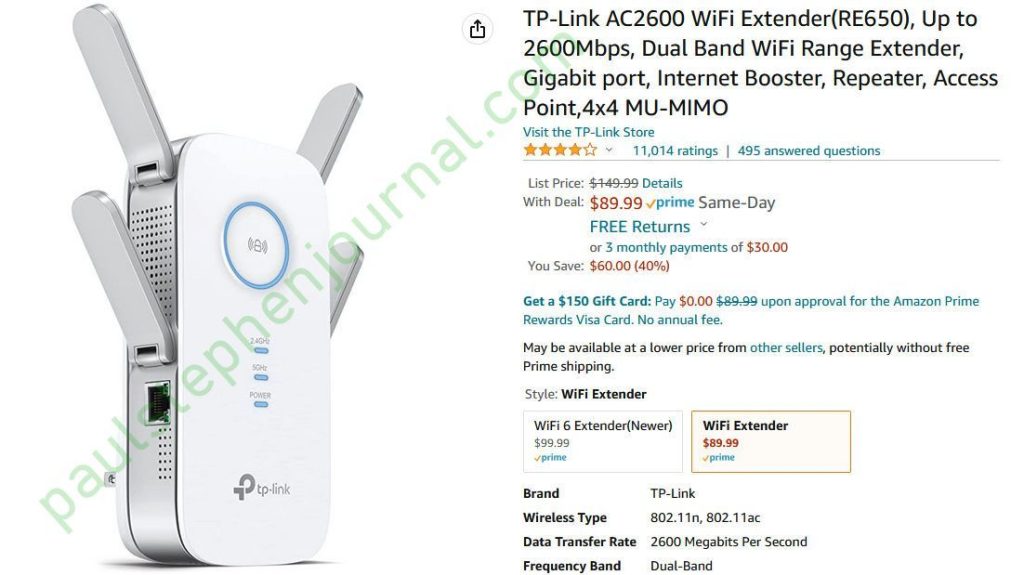 Again here is an optional component for my security camera setup, but you may need something similar if you plan to have any WiFi devices outside of your house. Wireless signal strength decreases quickly through walls and related obstacles. For my prior LinkSys router (before I got my Asus mesh), which was wireless AC, the new Reolink cameras and meross smart bulbs, all sitting outside of my house, were having a lot of difficult maintaining connection. Though the Reolink cameras were mostly ok, the smart bulbs, sitting in the lantern glass even before a signal would reach the outside wall, could barely connect and be set up with HomeKit.
This wireless extender was a great signal remedy for my old wireless AC router. I placed it in a room near the outside wall, and it allowed all cameras and smart bulbs to connect to my home network through it. I no longer use the extender since I switched to Asus mesh. Interestingly, the outside devices seem indifferent as to whether they connect to my main router node (farther away) or the satellite node which is approximately in the same location as the TP-Link extender was.
For reference, here are the Mps transfer rates (third column from the right) for the two security cameras and two farthest smart bulbs, when connecting to my mesh. These signals are fairly weak still, but I rarely have issues with any of them.

Garage Lanterns Setup
I will not go into any substantive detail about the Reolink cameras, because as far as cameras go, they were very easy to install and use. I mounted and set up the cameras indifferent to the power source, which is the primary concern of this article (i.e. if I had installed a gang box fed by new wiring from my attic, the Reolink setup would have been identical except for the power source location). So my focus here is on how I configured the lanterns, and later I will also touch on the smart bulbs.
The first step was removing the glass panes on the lanterns so I could screw in the three-prong socket plus plug in the power adapter for each security camera. It was a very tight fit for the utlra-wide's adapter, but it did make it, snugly. Here is a view directly in to the lantern from the bottom: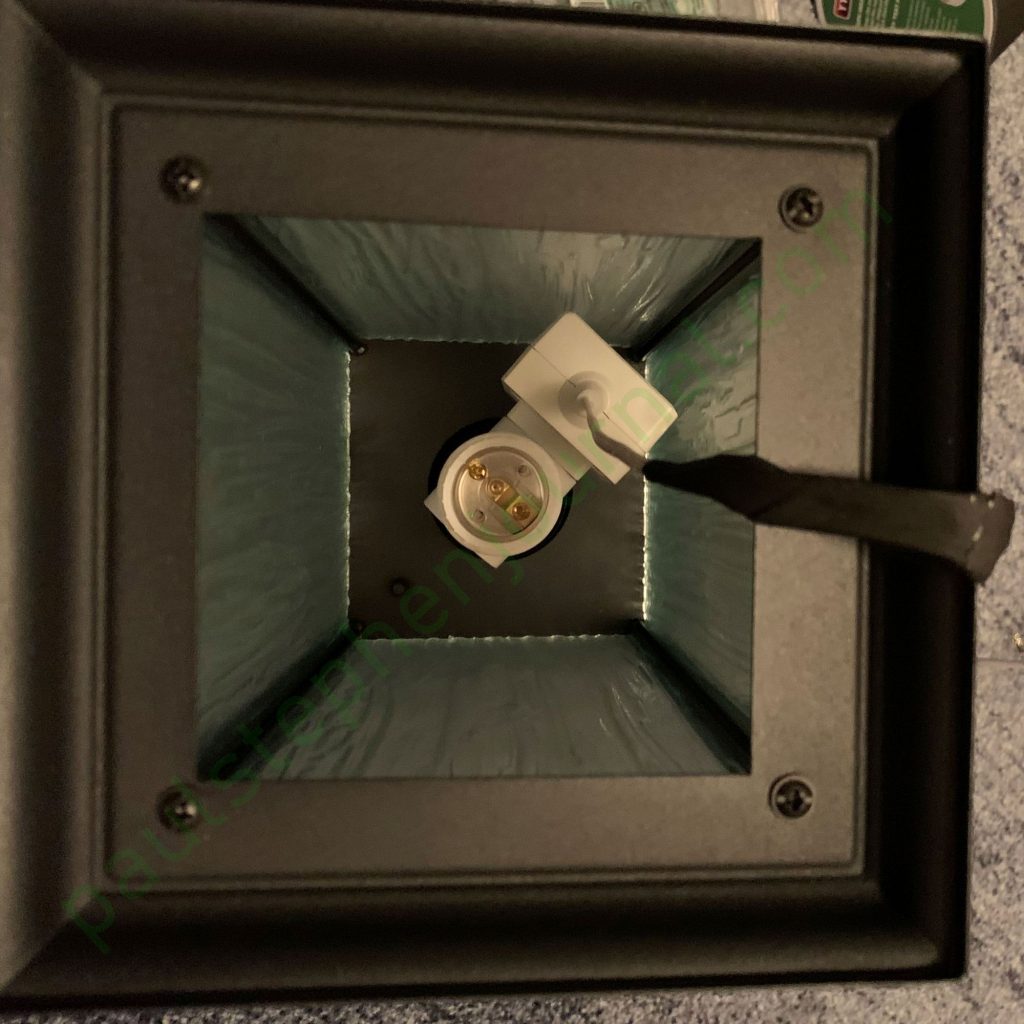 In my installation (and likely for most), the security cameras were going to be mounted above the power source. So I needed to thread the Reolink power adapter's cable towards the top of the lantern. See how I taped the wire and looped it around the fixture's support braces: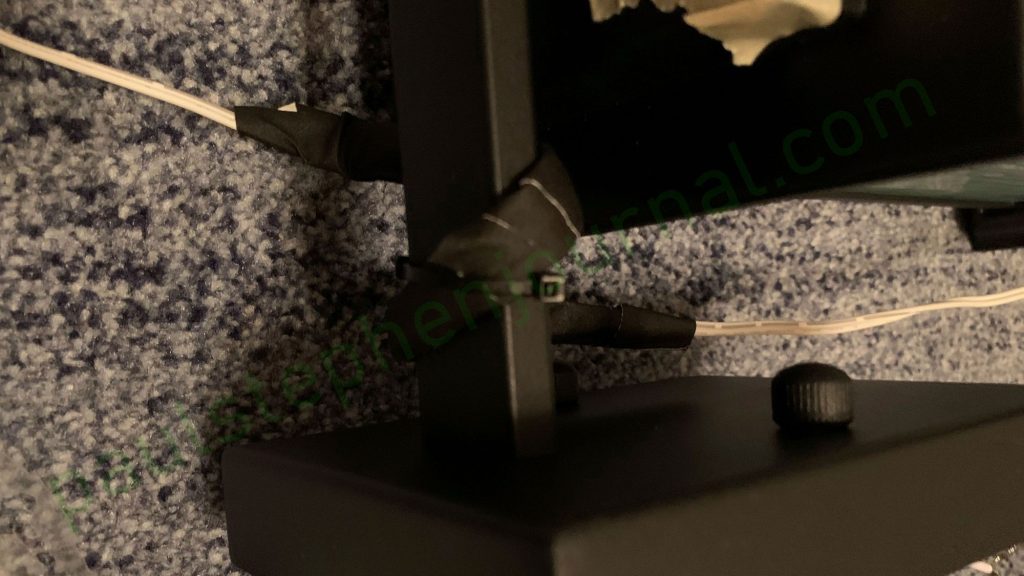 Since each security camera has a different power adapter, I labeled each fixture as right or left; I had earlier planned the camera layouts upon my garage wall. Here are both lanterns ready to be installed outside: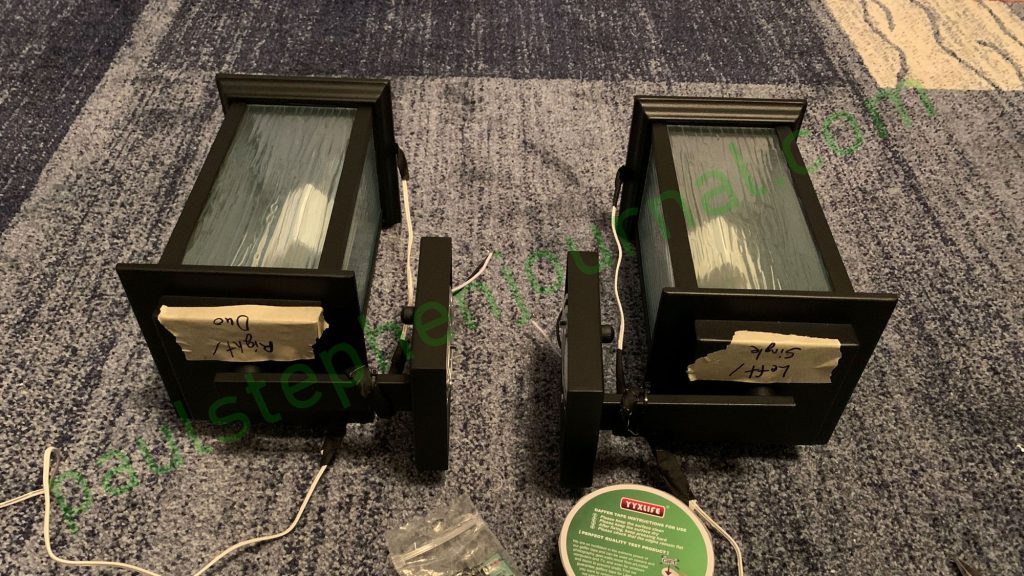 It is important, in my opinion, to do as much of the prep work as possible inside, so you do not accidentally drop the fixtures or even the glass panes.
The rest of the installation was straightforward from here. I removed the two old garage light fixtures and installed the new ones (verifying the power was off prior, of course). Validating that the installation would work, I then proceeded to install the Reolink cameras directly above each light.
Here is the left fixture and ultra-wide camera installed. Note how I tucked in the wires around the edges of the siding. If you need to run wires horizontally or do not have edges to tuck the wires into, there are siding clip hooks that can help.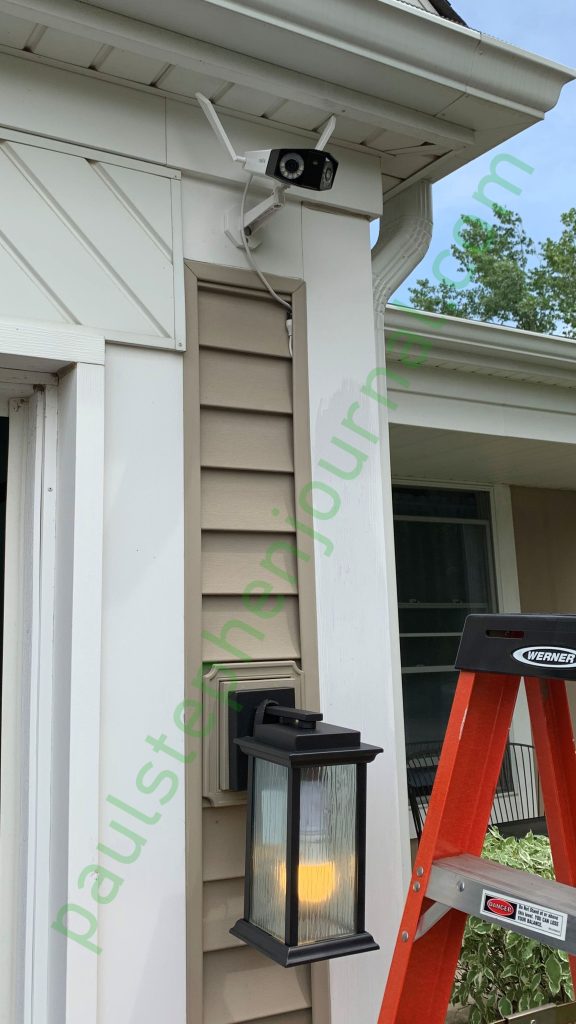 And for completeness, here is the right side with the 5MP camera: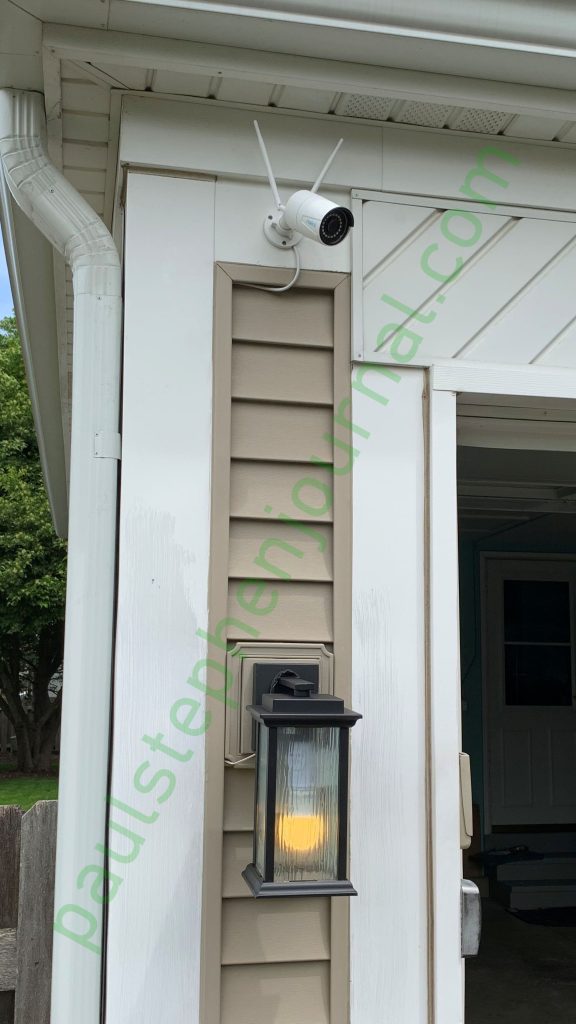 Using the Smart Bulbs
As mentioned before, the lights (which include a third recessed porch light not shown) are meross smart bulbs that integrate with Apple HomeKit. I need to keep the light power on all the time now since they power the security cameras as well. This is why I bought a new rocker switch (above) to replace the prior smart switch that controlled my front outside lights.
So to turn the lights on and off, I use HomeKit. Here is how the lights look within the iPhone's HomeKit app: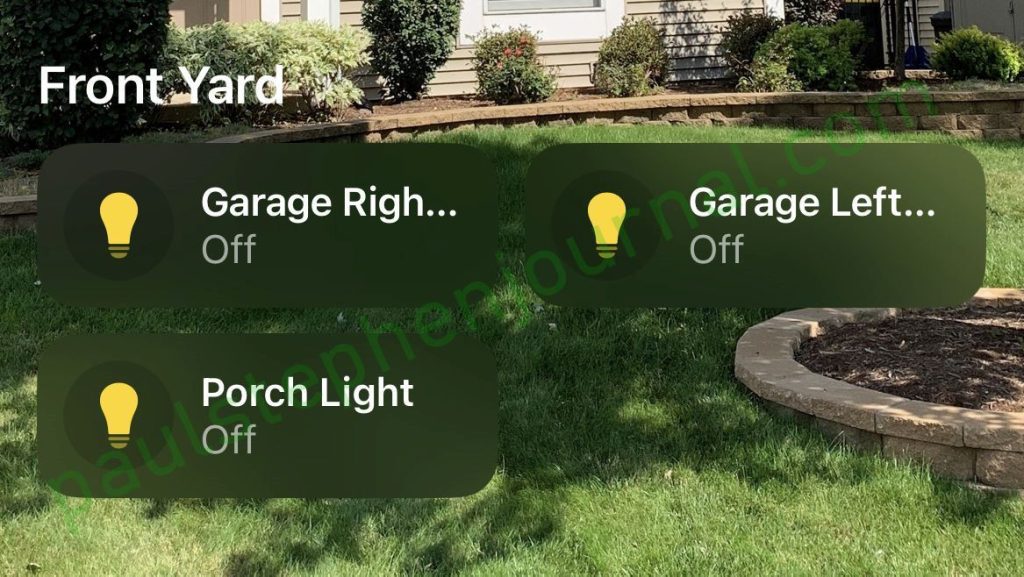 From HomeKit, I can turn the lights on and off, and with Siri. I also set a nighttime schedule for the lights. My smart bulbs are multi-colored, so I can change their colors for different holidays!
When I first installed the bulbs, I had a very hard time getting HomeKit to recognize them. This is why I bought the TP-Link extender (above).
---
Nearly six months later, the entire installation is fine. They worked fine in the heat of Summer and I am about to learn how they hold up to the Winter cold (so far so good).
There are many smaller aspects to this installation project. If you have any questions, please leave a comment below!
Also, please consider subscribing to my blog, or sharing using the links below is appreciated as well.