March 11th, 2017, 10:30 p.m. local time
Over the weekend, in a familiar tale, clouds rolled in. However, these were not enough Saturday night to suppress the might of our nearly-full Moon. Above, taken with my smartphone on basic Auto mode, you see the disc both punching through and illuminating the cloud canvas.
As mentioned days before, I learned you can set your smartphone to capture the Moon's surface details.  On a clear pre-dusk sky I had great success with ISO 200 and 1/3000 shutter speed.  With clouds, however, the equation changes a bit, so I scaled the shutter all the way up to 1/50 to get this (cropped, as the surroundings are all black):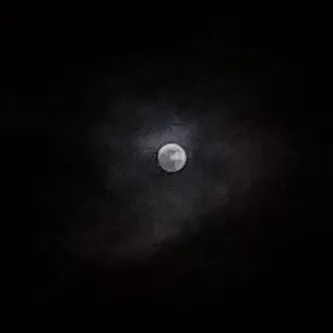 While not as clear as before, obviously due to the clouds, you can still see a good amount of surface detail!