March 15th, 2017, 7:10 a.m. local time
Though I had stayed up late Wednesday for a high-sky view of the Moon, Jupiter, and Spica, several hours later during my work commute the Moon was still visible in the West. It was a neat site, with the Sun hovering over the East horizon and the Moon in the West, both making a panoramic frame of the entire morning sky.
After photographing several nights of the pre-Full Moon, now I am interested in the waning daytime phases.  So to start, the above image was taken with my smartphone's camera's Auto mode.  The washed-out Moon is not very interesting in the morning's pale blue sky.  I slid the exposure way down to 1/6000 to capture the Moon's surface details: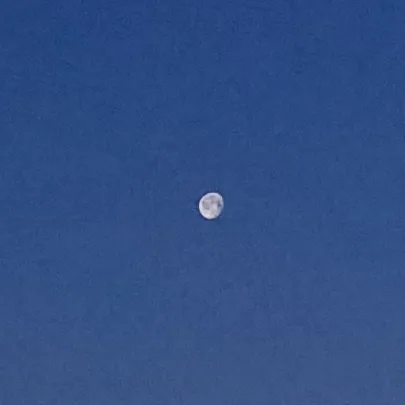 Notice that, even at the ridiculous 1/6000, the sky still shines blue!
The next, and perhaps last, challenge in this sequence is to see what the midday Moon looks like via a smartphone. I hope to photograph the Waning Quarter Moon in a few days.