I purchased my fourth car back in 2013, a '13 Ford Escape Titanium AWD. It has been, to date, my most reliable vehicle. Knocking on wood, its only tangible problem was that about six months after purchase, the driver's window stopped rolling down fully, which of course was covered under Ford's warranty to fix. In over nine years, there have been no core mechanical issues.
There are always minor issues with any vehicle, minor issues not worth mentioning. But for my Escape, the "most" minor issue is one of function – the "My Ford Touch" a.k.a. SYNC 2 by Microsoft, has always been horrendous. Even when I got the Escape in 2013, SYNC 2 was slow, sluggish, and only marginally worked with my smartphone of the day (today, SYNC 2 simply freezes completely on any call or text from my iPhone XS via Bluetooth, requiring a complete engine shutoff to restart). Navigation works maybe 20% of the time.
SYNC 2 is so bad, it is the prime reason why I would consider selling the Escape, instead of keeping this most reliable SUV long-term. Now you may argue, if the only real issue on the vehicle is the onboard dash computer, isn't that an inconvenience worth living with? A fair point. My main counter is that important functionality is either lost of missing by keeping a vehicle with SYNC 2, particularly phone integration and navigation. From a practical perspective, the hindrance limits how much I would want to continue using my Escape compared to even a modestly updated vehicle with a working dash system.
I lived and drove in the era before dash computers were a thing, and yes those cars worked fine. But this is not about the past and its reliability. It's about today, and my calculated planning for the future. If there are alternatives available to me that offers higher value and better quality of life and driving, should not I explore those options?
All of my internal debate is purely academic, since there is a solution to SYNC 2 on older Ford vehicles unfortunate enough to have the in-all-ways inferior dash computer SYNC 2. The successor to My Ford Touch was SYNC 3, which is a far, far more robust and frankly usable dash computer. Though old by today's standards in late 2022, it is actually still factory-delivered in some of Ford's new vehicles such as the Mustang and Bronco Sport.
But is it truly possible to upgrade a SYNC 2 Ford to SYNC 3?
Making the Decision
As I learned through Internet research, it is indeed possible to swap out a My Ford Touch SYNC 2 and replace the unit with SYNC 3. They are the same form factor. In the case of my 2013 Ford Escape, the replacement process is fairly easy by automotive standards, requiring only the popping off of a few plastic covers, unscrewing several screws, and cable swaps.
Several online dealers offer kits to perform SYNC 3 upgrades for various makes and models. I went with 4Dtech's upgrade kit for 2013-2015 Escapes. It is a complete kit with all the necessary parts to perform the upgrade, minus the screwdriver tools.
The only big disadvantage to this kit is the price. At nearly $2,000 (US) when you include the Navigation package, I nearly balked. However, in the context of my planning, $2k to significantly extend the life and usefulness of a reliable vehicle seems a far more prudent option than buying a new car outright, which probably would start today around $40,000 for an equivalent make.
Installing SYNC 3
4Dtech's upgrade kit included very clear instructions, but they almost assumed that you would compliment their written steps with a visual demonstration. There are several Ford Escape SYNC 3 upgrade videos on YouTube, and the best, in my opinion, is this one from Dan Kuehling:
In summary, I pretty much did everything as Dan, step by step. His car was a 2014 Ford Escape Titanium, which I am sure is 99%+ similar in build and parts to my prior year 2013 Ford Escape Titanium.
To show some of the high-level work, here is my '13 Escape's dash before I started, with My Ford Touch SYNC 2 powered up on the dash: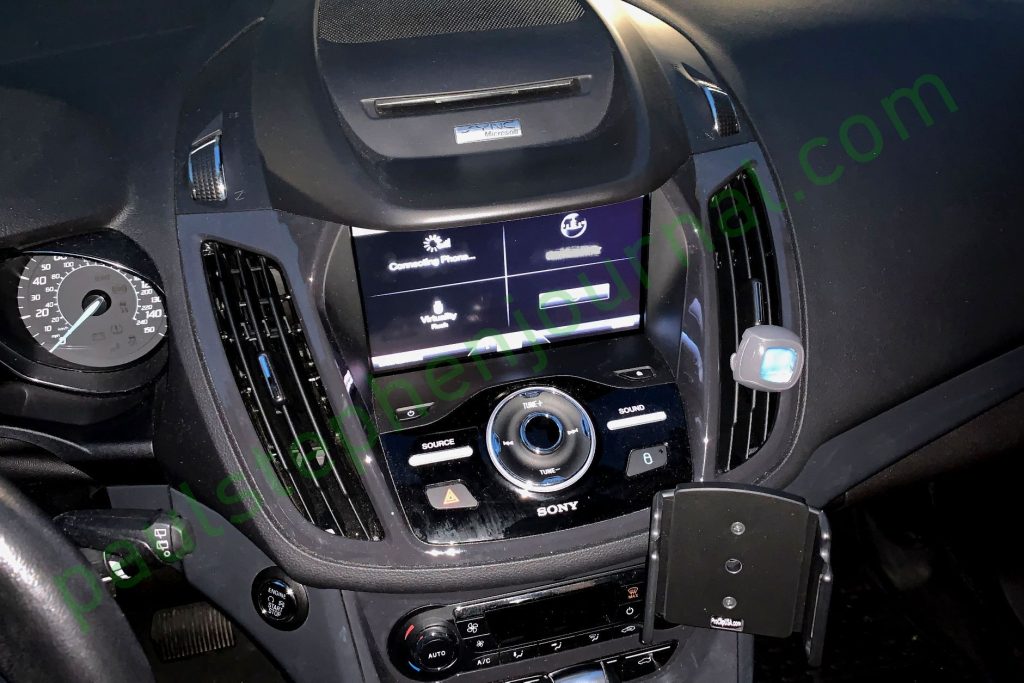 As a side note, you see in this photo that there are manual climate controls below the SYNC 2 system.  To me, it is vital that an automobile retain physical control buttons for crucial car functions, like climate.  Someone should tell the car manufacturers that computer systems, no matter how robust, will always have the possibility of failing, rendering those crucial functions inaccessible.  I may discuss this further in a future article.
You will also notice that I have a smartphone holder attached in the lower right of the SYNC console area. I didn't know if I would need to remove it, but it stayed on even after I removed the dash's plastic covers. In subsequent images you will see the green painter's tape I placed to mark its location, just in case I needed to remove and reattach the phone holder.
Here is the center console with the top and front plastic covers removed.  The top was only held in by pins, and it was easy to pop off upward.  The front cover has two 7mm screws (tool required) that needed to be unscrewed, before popping off the cover held in by front pins.  The SYNC 2 unit is the rectangle square device in front.  Above SYNC 2 is the CD player, for those of us that lived through the 1990s.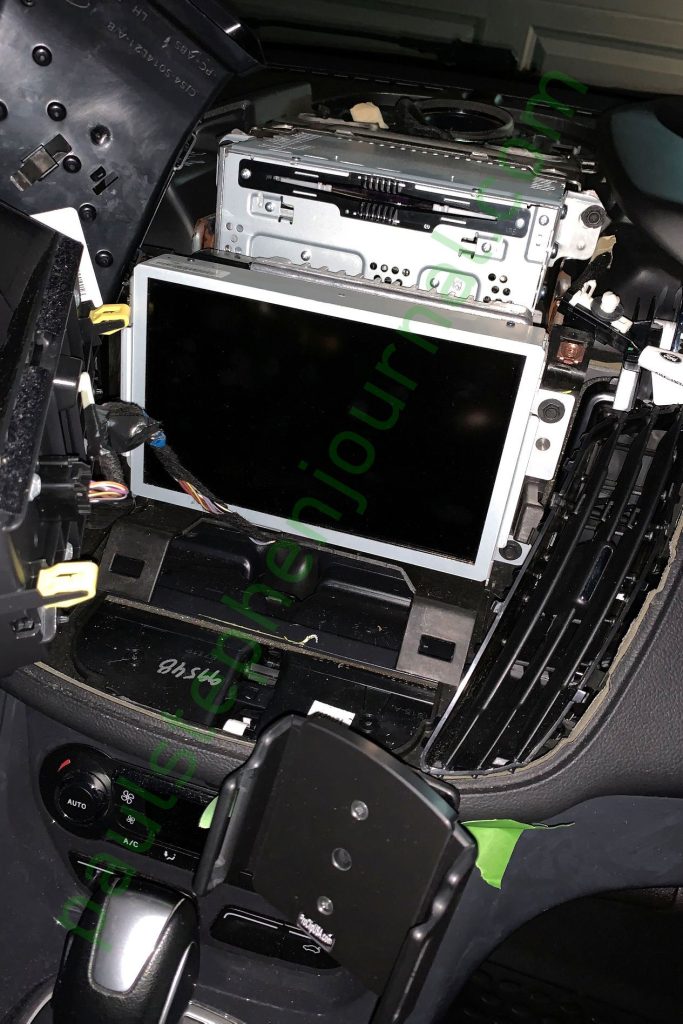 Four 7mm screws held the SYNC 2 brackets in place.  Once those screws were removed it was easy to pull out SYNC 2 and the detach the two cables.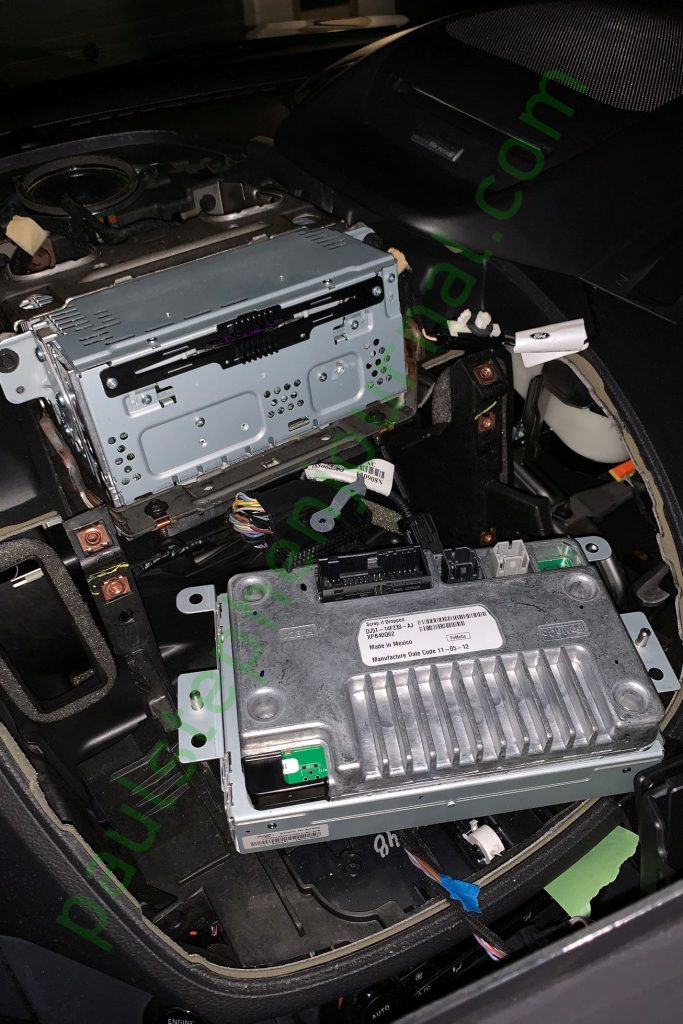 The next steps were to remove the brackets on SYNC 2 so they could be placed onto the SYNC 3 system.  I brought the SYNC 2 unit into my house.  Removal of the brackets required a T8 Torx driver.  SYNC 3 is on the right, and you can see see its GPS antenna connector, which we will talk about next.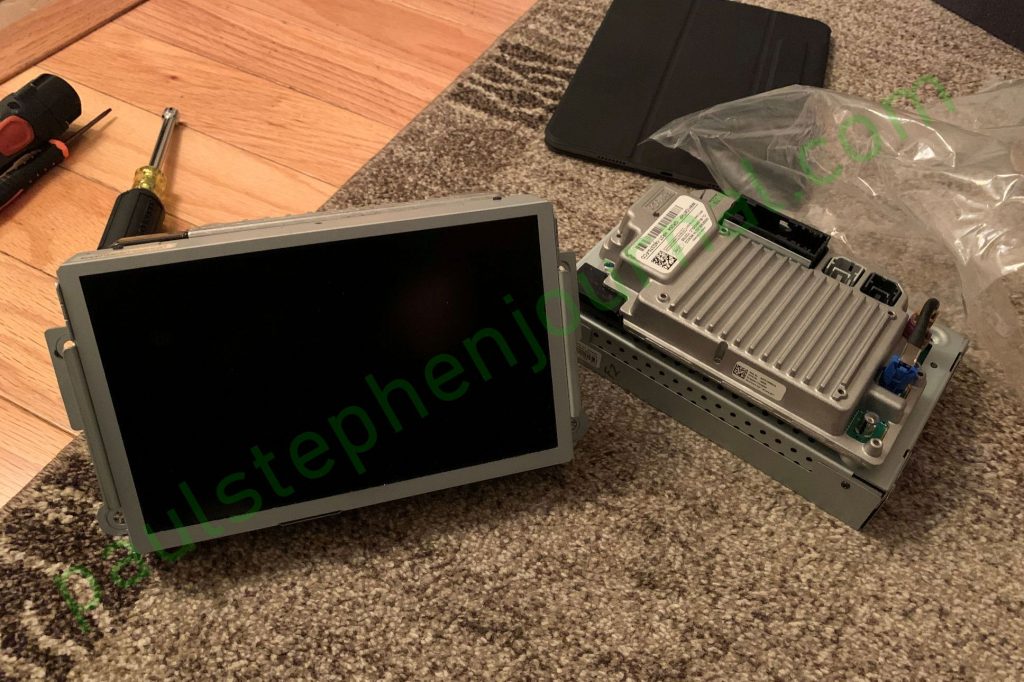 Back into the vehicle, I had to decide where to place the new GPS antenna.  I thought SYNC 2 used GPS, but maybe not, and maybe SYNC 3 just needs a more robust antenna.  The best place to sticky the antenna (the kit came with a 3M tape patch for the antenna) was close to the windshield and under the top plastic cover.  I chose the passenger side.  The area has ample room for the antenna: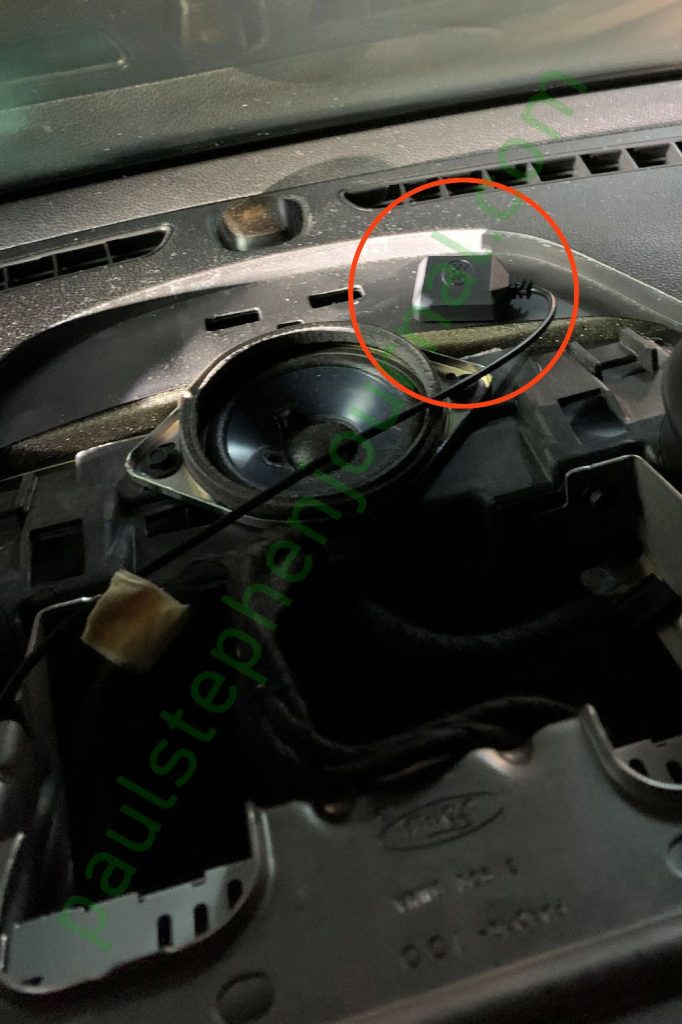 I wrapped the excess wire through the various slots.  Again, there was plenty of room for this, and I never worried that the wire would get pinched by the cover's plastic clips.  I wound the remaining wire and secured it with zip ties, and this excess fit right behind where the new SYNC 3 unit would be mounted.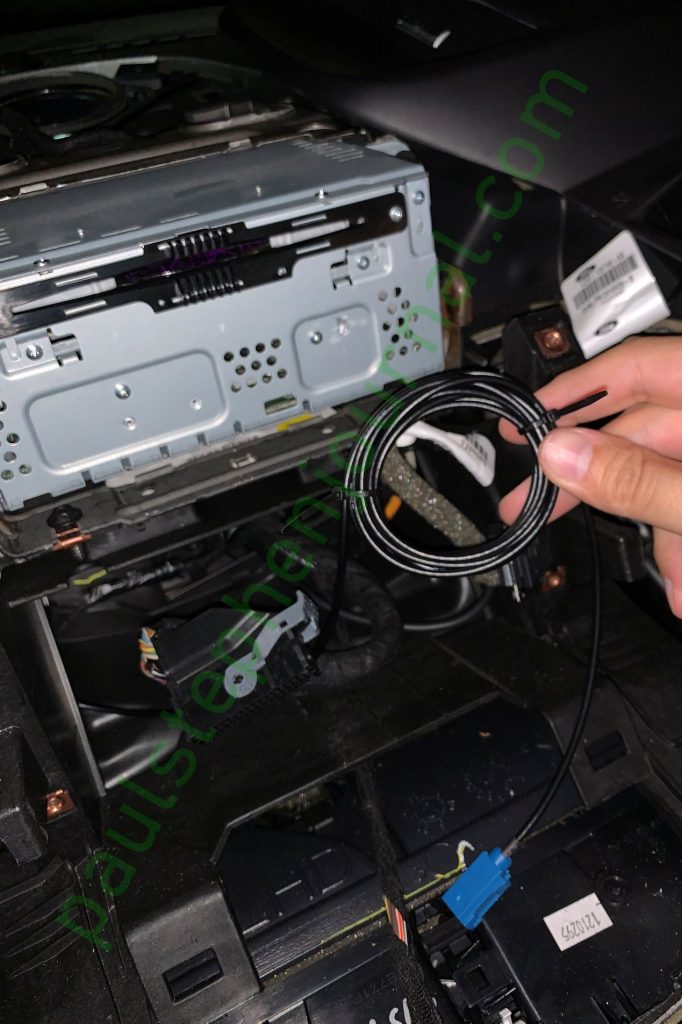 I continued to follow both 4Dtech's instructions and the steps shown in the YouTube video linked above.  Eventually, I got the new SYNC 3 module plugged in and mounted.  As I was working to get the covers back on, I opened the vehicle's door, and too my delight, I could see that the SYNC 3 unit was working!  Even though I had not yet turned on the ignition, power was sent to SYNC 3 (like with SYNC 2) on an open door.  This was a great affirmation that the unit was ok!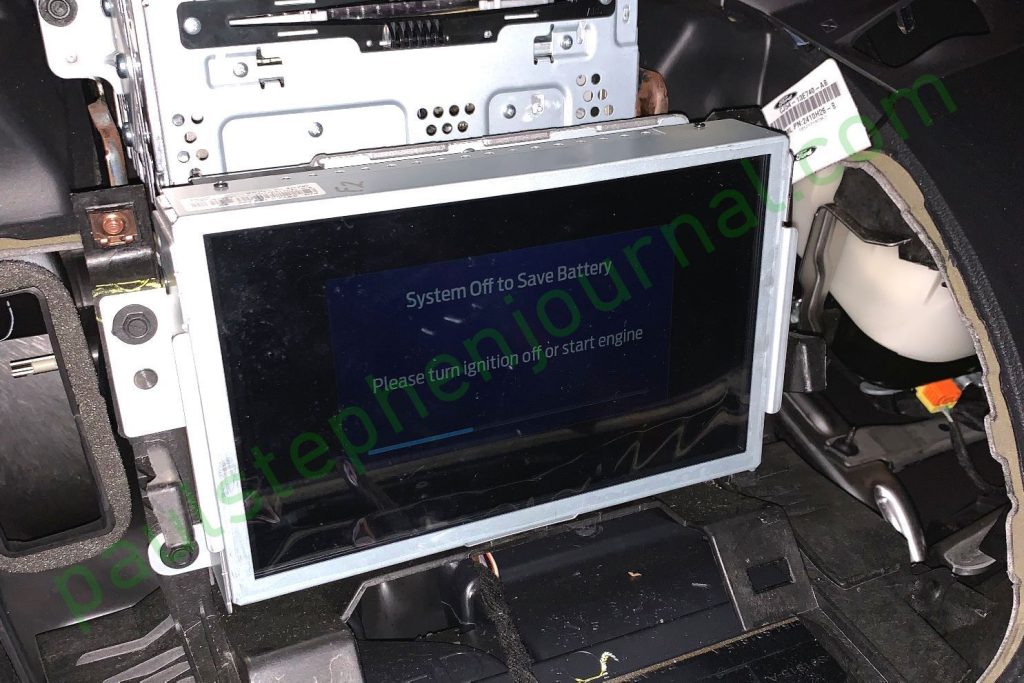 After restoring the center dash area with the plastic covers (everything looks great, can't tell any work was done), I had to replace the USB plugs in the center storage compartment.  This was very easy by the instructions, as it only involved popping out the old frame and plugs, and inserting all the new.  The only issue with this entire installation is that the USB frame was a little loose, such that if I pulled a USB cable out of it, the entire new assembly would pop out.  I fixed this the next day by applying a bit of Elmer's Glue all around the new USB frame, and now it feels pretty snug and not wobbly.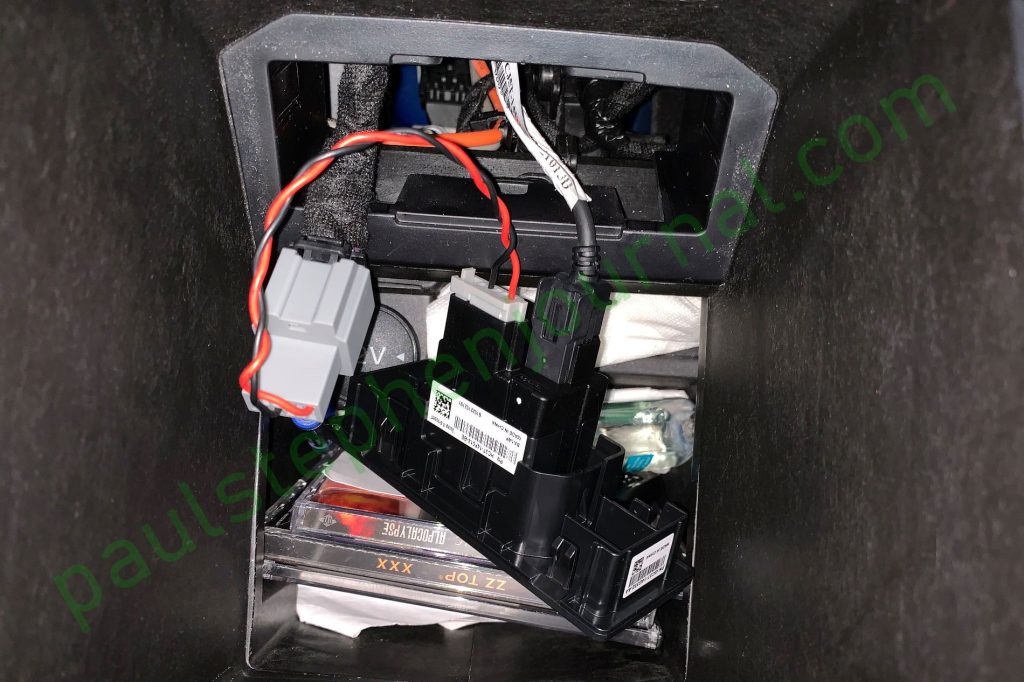 Final Impressions
After all the instructions were completed, I turned on the Escape and…it worked! It all worked great. GPS immediately recognized my location, even though I had yet to start driving. Radio immediately started. And though I don't subscribe in my Escape to SiriusXM, the Sirius promo channels were working.
Later I tried Apple CarPlay with my iPhone, which was also fine.
I have a USB stick which stores all of my music.  With the old system, access to the USB stick was very slow, but with SYNC 3 it is fast, like at my PC.  In short, everything simply now works fantastic.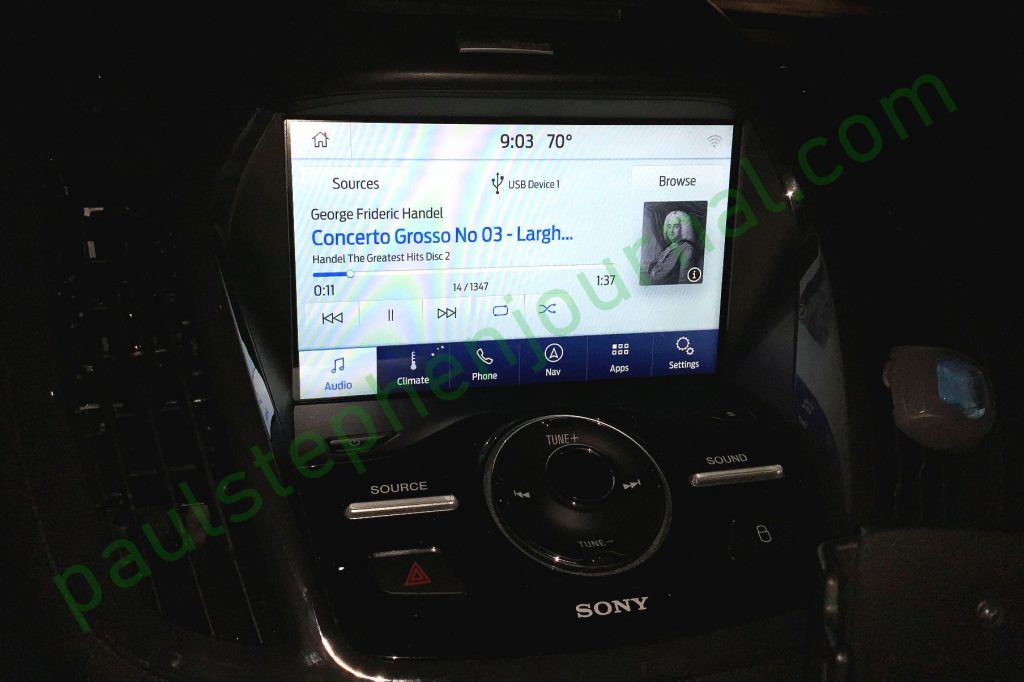 Just a funny side note – in the photo above, there is a picture of George Frideric Handel, and NOT the CD cover from my Greatest Hits CD that I scanned. I am not sure where the photo came from! I always include album covers for all of my USB music, from my vinyl and CD collections, to my Amazon and iPhone purchased music. I may research this later.
I have yet to use the new SYNC 3 system for real driving, but so far I can tell it is superior to the old My Ford Touch by Microsoft in every way. It is worth the price tag? If I can get at least another three-to-five years of life out of my Escape, and hopefully longer, then this investment in SYNC 3 will have been well worth the time and effort. For now, I am impressed with SYNC 3. It feels like I have a new car!