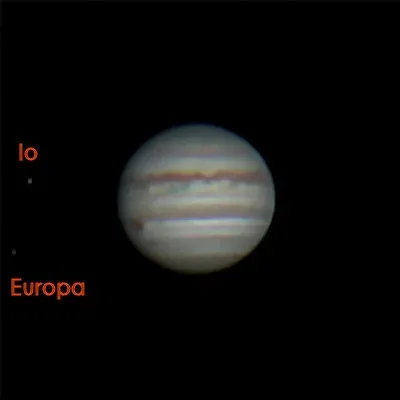 June 29th, 2018, 9:45 p.m. local time
I ignored the "excessive humidity warning" tonight and imaged Jupiter. The sky was just too clear and this was a Friday night. I am glad I did, because though the humidity was stifling, the bugs were very few. Apparently insects don't like humidity either.
This is my first good image of Jupiter in 2018. The focus was near-perfect and about as good as I am going to get with my non-imagining imaging equipment. Referencing my note log from last year and the few bad attempts this year, I got the camera settings just right. I also did post-processing in PaintShop Pro to smooth out and clean up the image.
As added bonuses, Europa and Io made it into the picture. The Great Red Spot is also visible. Even if I don't get another decent Jupiter for the rest of the year, I will at least have this one to look back on.