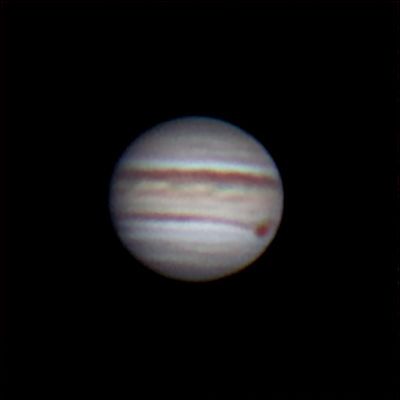 August 9th, 2019, 9:45 p.m. local time
This was the first test of my new, mighty Canon EOS Rebel SL3. It operates very similarly to the SL1. I had to go into the menu options to disable the "fluff" to get back to the bare-bones menus. Once I did this, the SL3's menu interface was near-identical to the SL1 interface that I am very familiar with.
The first benefit I noted was the rotatable viewfinder. When looking down the viewfinder sights of my Dobsonian reflector, I was able to aim the LCD back towards the rear of the telescope. This saved time and the normal frustration of finding the target in the viewfinder and then having to stand upright again near the front of the scope to make "blind" adjustments to pinpoint the target.
With the SL1, I settled on an ISO of 1600 and exposure of 1/125 for Jupiter. For this session, I kept with those settings, though I did try HD videos at 30fps and 60fps. In later analysis, the 60fps final imaging was slightly better.
Above is the best post-processed result from the night. You can see the festoons and marginal detail in the cloud bands. I feel this compares with the better range of images I produced in the past few years with the SL1.
For reasons I will get into when I post about Saturn from the same night, I feel this camera can produce better, likely by increasing the ISO above 1600, increasing the exposure, or both. I will need to experiment with these settings in my next session.
With the SL1, I had been stacking the best 60% frames, but for this session, I noticed that 30% looked better. Whether this was due to the new camera (needing less frames for a clearer final image), or a quirk of the night's conditions, I can't say.
Another benefit, I believe, of the new camera is that I can finally process a Drizzle in Autostakkert. I have rarely mentioned the Drizzle feature, but have a hunch I will be experimenting with it more. All it means is that when the best video frames are stacked into the initial raw image, the picture is blown up by three times.
Drizzle can help to see detail if your base images are in good focus.  Here is my test Drizzle image, processed at three times the size of the normal image above.  Its size is reduced to fit the confines of the blog, but you can click on it to see the full image.  And it is not a coincidence that both images in this post, the normal and the Drizzle, may appear exactly the same size, as I reduced this one to show at 400×400 pixels like the normal one above.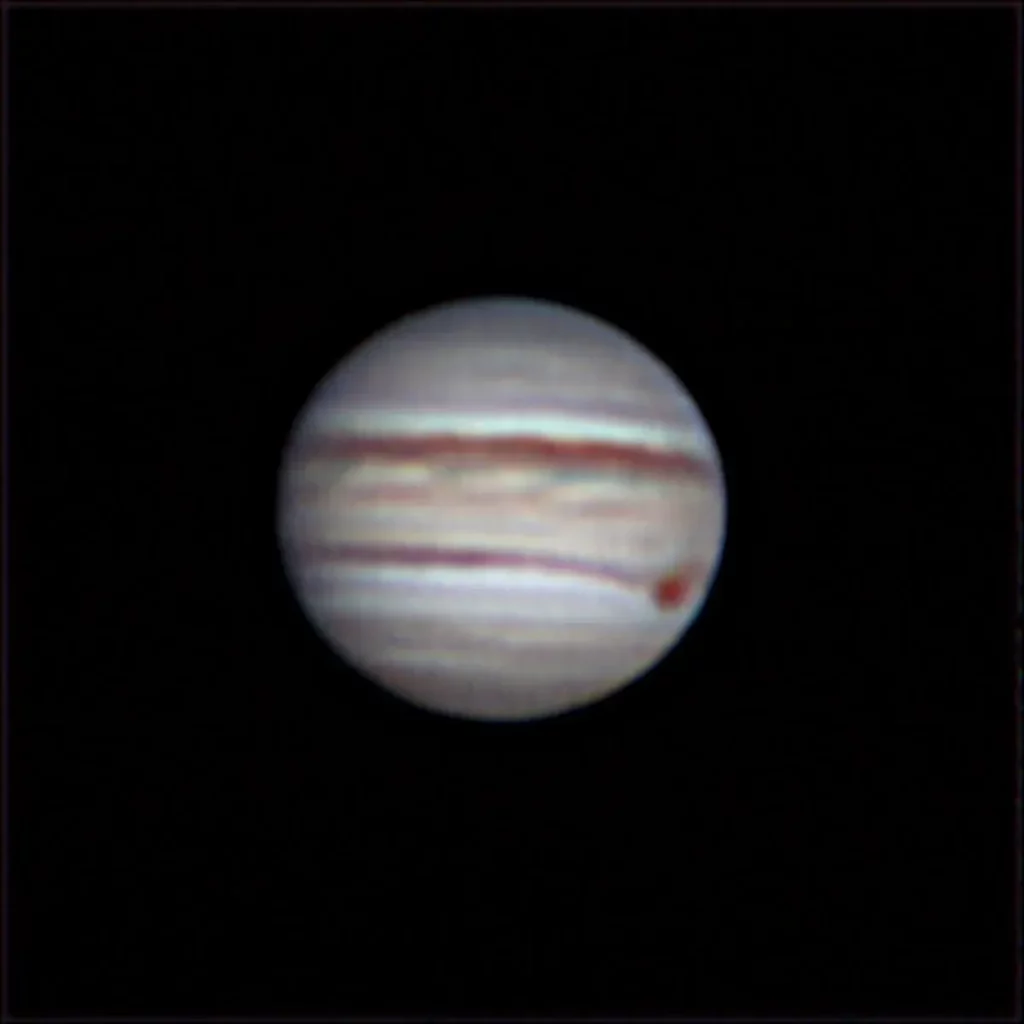 Summary of my equipment, settings, and software used:
Telescope: Dobsonian reflector 254mm / 10″ (homemade)
Camera: Canon EOS Rebel SL3
Barlow: TeleVue Powermate x5 1.25″
Filter: Baader Neodymium 1.25″
Canon T ring and adapter
Relevant camera settings:
ISO 1600
Exposure: 125
HD video at 60fps
Created from three videos of about 25s each, best 30% of frames
Software for post-processing:
PIPP
Autostakkert
Registax 6
PaintShop Pro for final minor touchups