February 5th, 2022, 10:45 a.m. local time
My last astrophotography session was all the way back in November, when I observed and imaged the 2021 Lunar Eclipse at 2 a.m. There is a reason for the nearly three-month dearth in posted sky observations, which I will explain before the article concludes. I filled the time with several off-astronomy articles. My blog has been about 90% astronomy-related for years, and I expect that percentage to continue, especially when the weather returns to more pleasant conditions.
The evenings have been cold and cloudy. And by cold, I mean near-zero degrees Fahrenheit. In recent days I had been thinking about when and where to get some of my equipment back outside, if only in a limited fashion.
It occurred to me by chance that I have not performed any Sun observations for a while. My last one was in April 2020, when I noted the effective complete lack of observable sunspots. At the time and for well over the ensuing year, it seemed fruitless to pursue more Sun photography, especially with my merger equipment. Plus, there were a variety of other celestial events that kept my attention, like Comet Neowise.
I don't track sunspots outside of these trend-spanning years, but I was interested to know if any had returned. So before looking up Internet sources on the current state of solar affairs, I did what any amateur astronomy would do on a sub-freezing Saturday morning; I found my telescope's solar filter, bundled up to brave the cold, and headed to my back deck with my telescope.
The morning was obviously cold, very cold. But thankfully there was no wind, which makes a huge difference. Without wind, a temperature around 10 degrees F is bearable long enough for aligning and focusing the telescope. I only went back inside once to warm up.
If you notice this article's top card image of the front of my 127mm Mak-Cass Orion telescope, you will see a few features of this setup that are completely unique to a solar observation:
The session is happening during the day (obviously).
A tight-fitting solar filter is attached to the front of the telescope. This filter looks practically like a mirror and blocks upwards of 99.9999% of all light. That any light gets through is a testament to the brilliance of the Sun.
As an important safety reminder, never look at the Sun directly with a telescope or binoculars without a properly-fitting solar filter!
On the back side of the telescope, I removed the finder guide. This is used during the night to easily pinpoint specific locations of the sky, especially stars, and should never be used to locate the Sun. Detaching it removes any possibility of accidentally trying to peer through the finder, which I frequently do at night.
Shadows.
What about the shadows? They are significantly important to align the telescope with the Sun. Without a telescope finder, leveraging the telescope's shadow from behind helps to get the scope pointed at least reasonably close to its target. The objective is to only see the shadow of the tube dead-on, making a circular shadow.
Another option to help find the Sun is a protective solar film, essentially the same material and/or premise as the solar filter attached to the telescope.  I keep around a handful of these trinkets from the 2017 Solar Eclipse: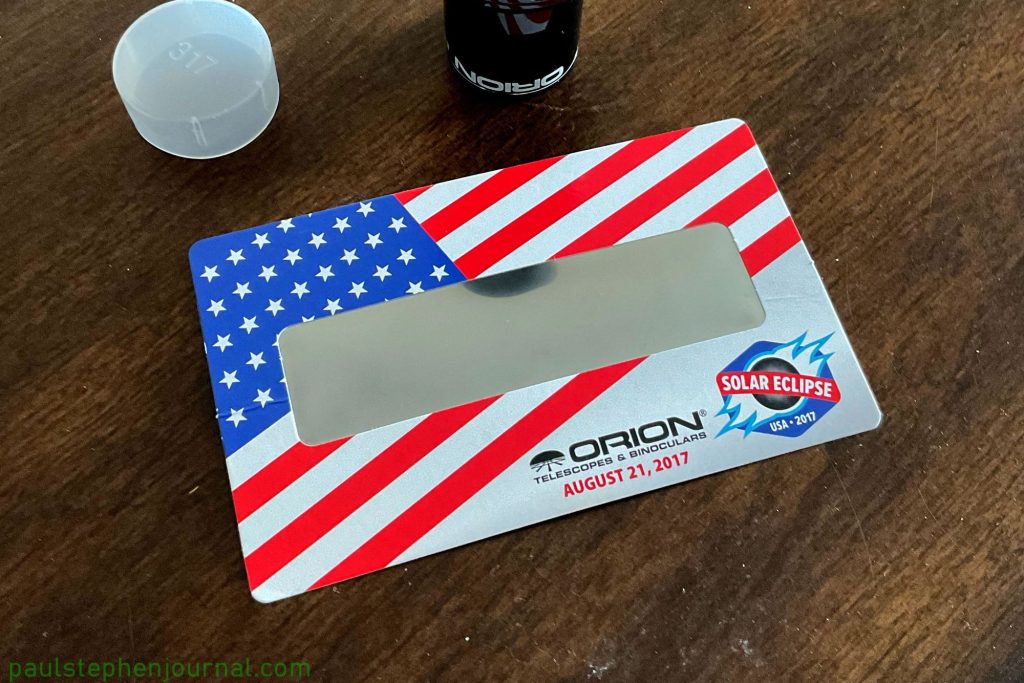 The front of the telescope is not unlike my setup with I photograph the Moon with the Mak-Cass.  I used a basic 23mm aspheric eyepiece; resting on top of that is a smartphone camera mount holding my iPhone XS.  This is called afocal photography, putting a full camera directly over the eyepiece.  It works for large objects such as the Sun and Moon, but would quickly show its limitations with deep sky objects like nebulae.  Note that although this telescope has an electric guide rotator (partially visible here), it was not used nor plugged in.  Unless you align it before dawn (and then don't bump the tripod!), it simply is not possible to leverage for viewing the Sun.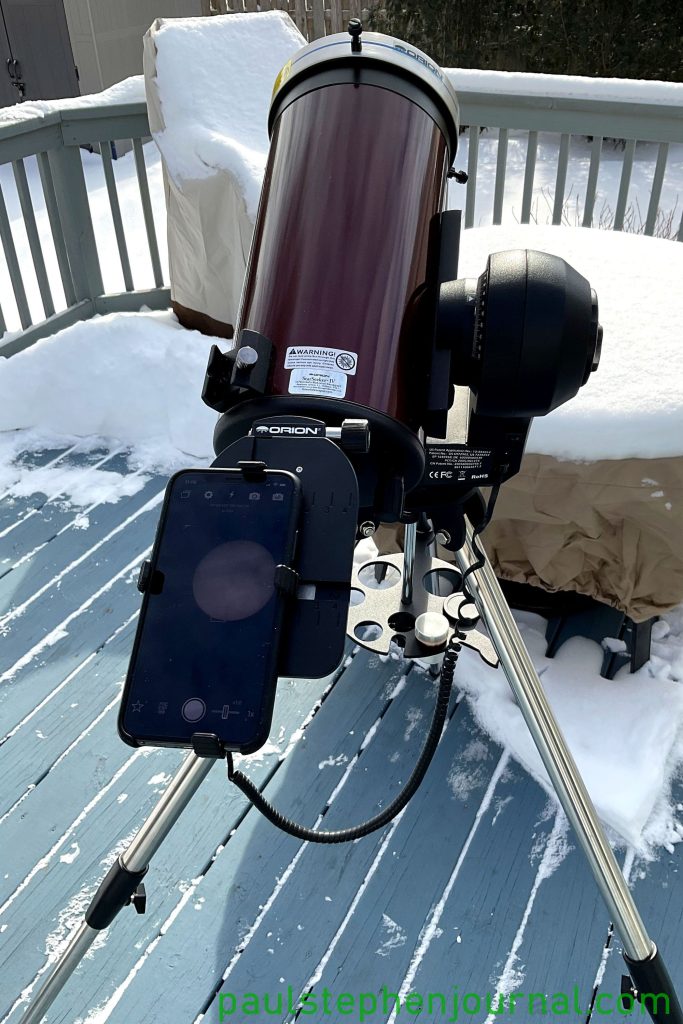 When it came to the actual photographing, once I located the Sun despite significant cloud cover, I took several dozen pictures using both the iPhone's stock camera app as well as NightCap.  The final image I chose to publish is from NightCap: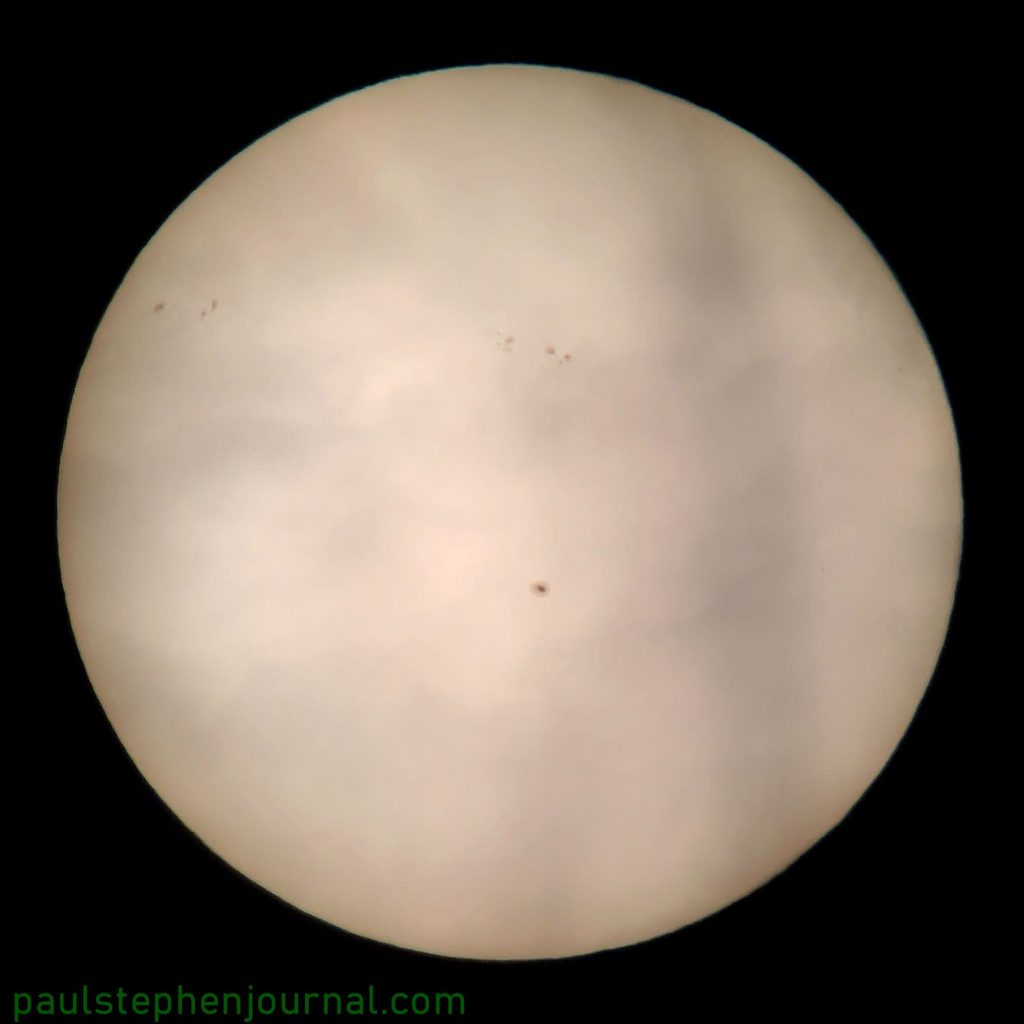 The large shaded areas are not part of the Sun but a combination of the Earth's clouds and tree branches.  This image was taken through the clouds, through the trees.  It would have been much sharper on a clear day.  But it is nonetheless sufficient to identify the present sunspot groupings.  In post-processing, I leveraged spaceweatherlive.com to check out how accurate my photograph is to the currently-tracked sunspots.  SpaceWeatherLive showed four major groupings as of today: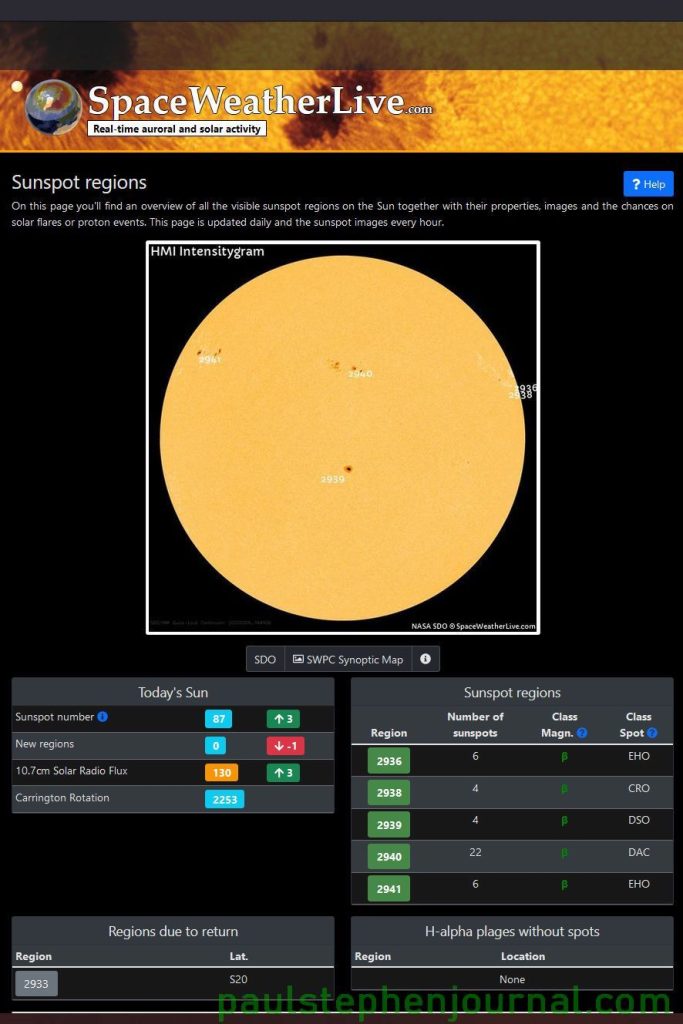 The 2936 and 2938 regions are bunched close to the right top and barely visible in my image. The largest region in the center, 2939, has four identified sunspots, though I can see only the largest, even when magnified. This goes to show the limitations of my equipment.
But there are sunspots after all, and I will try to take at least a few more solar images as the year progresses to track overall intensity of sunspot activity.
Equipment Used:
127mm Mak-Cass telescope
23mm eyepiece
No eyepiece filter
Solar filter for telescope lens
iPhone XS
Smartphone telescope eyepiece adapter
Nightcap app on iPhone
f/1.8
1/80 sec exposure
ISO 24
Focal length: 4mm
Minor touchups in PaintShop Pro and AfterShot Pro
---
A final note on the reason for my absence from astrophotography these past few months. It actually started shortly before the November eclipse, where my left arm, my dominant side, started giving me very sharp pains with certain twisting motions. I could still lift even heavy objects fine, including my large 254mm Dobsonian telescope on the night of the eclipse, though I was very careful. Since then, the pain gradually got worse. I tried resting the arm, wrapping it, heating it, and immobilizing it with braces. By January I noticed my range of motion was limited compared to my right arm, which I had to start relying on for reaching/extending to grab things, and still do right now.
By mid-January I finally decided I needed to have it checked out. I made an appointment with an orthopaedic doctor. X-rays were taken. The good news is there appears to be nothing wrong with the bones; they all look good and joints are nice and round as they should be. The initial prognosis is bicep tendinitis, needing anti-inflammatory medication along with physical therapy that I will start shortly.
One interesting perspective that I did not realize until I discussed it with the doctor, is that my attempts to immobilize the arm likely hindered my situation. These parts of the body need to move and become stiff otherwise. I am no longer bracing the arm and trying to use it as normally as I can. This included my wanting to get at least my smaller telescope back outside, hence my solar session today. The Mak-Cass is not hard to lift. I now plan further astrophotography sessions in the short-term with my digital camera, iPhone, and iPads.
My hope is that I am recovered by later this year when Saturn, Jupiter, and finally Mars return to prime evening viewing, when I can safely and confidently lift my Dobsonian again. We shall see what happens.