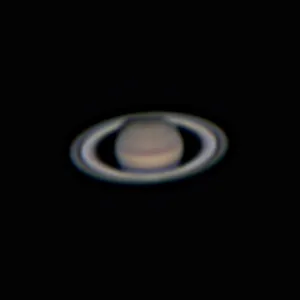 July 16th, 2017, 11:10 p.m. local time
All the recent rain and generally miserable humid summer weather almost made me forget that there was a brief pocket of pleasant evening clearness just this past Sunday. It was a great opportunity to move my 10″ Dobsonian to my back deck for taking in the evening's astronomical wonders.
I started with imaging Saturn, my primary objective. I had great difficulty locating Saturn that night and it was almost 20 minutes before I locked on. Keep in mind this is all a manual process. My homemade Dobsonian is a Newtonian reflector on a simple alt-az swivel mount. Even by turning my exposures all the way up, I still had problems finding it. The lesson here is that it may be next to impossible to attempt imagining of Uranus in a few months with my meager equipment.
Returning to the present though with Saturn, I think this may be my best yet. When I image the planets, I always take a few sets of videos with different refocusing. It is really, really hard to get the exact focus right, and the digital camera's view screen can only get you approximately there, hence the need to take a few sets so that hopefully at least one of them is good.
This night, I took two sets, and it was the first group of videos that allowed me to create the above image. I also used my Neodymium filter, which I prefer for Saturn as it brings out a nice color contrast among planet's cloud bands and ring levels.
After my Saturn session was complete, I put a 17mm eyepiece on the scope just to look around on that clear no-Moon night. Of note was the Hercules Globular Cluster (Messier 13) which I saw clearer than I ever had. Wow! I could make out many bright stars in the foreground of the cluster. I don't have the proper equipment to image it, but I hope to have the skills to properly draw it by next year.
Also of note was that I am starting to see Cassiopeia earlier and earlier in the Northeast. It's the great pointer to the Andromeda Galaxy. My view to the East is mostly blocked, so I have to wait some before the galaxy is visible via telescope and binoculars from my backyard, but it is comforting to know my favorite gray smudge will be back soon!