March 15th, 2017, 6:20 a.m. local time
A lot of stargazing stuff happened on or around the Ides of March, and I am still getting caught up.
For a few mornings this week there was a predawn unexpected treat: the Summer Triangle! I like that it is pretty much visible all year long, provided you are willing to stargaze at any time of the night. Fortunately the current sightings align with the start of my daily routine. Perfectly framed towards the East by my big maple tree were the stars Deneb, Vega, and Altair.
Here are is the same picture with each star's name attached: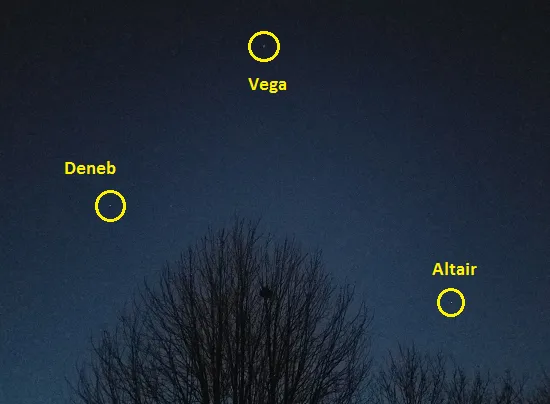 This picture was taken with just my smartphone. Nothing special about the settings as I only wanted to frame the triangle correctly.
I should also note that this is not a light pollution-tainted image. The Sun was nearly ready to pop over the horizon, so only the brightest stars and Jupiter were visible throughout the sky.