June 6th, 2017, 8:04 p.m. local time
I caught a bunch of interesting shots of the Moon tonight, along with a few other objects in the sky. See the tweet below for a good capture of a plane below the Moon.
A short while after the "good" plane, I caught something else, this time much higher.  In the image above you can see a spec in quadrant 1. Now usually I am shrinking/compressing images for the blog, but this time I am blowing one up.  Here is an expanded view of that dot: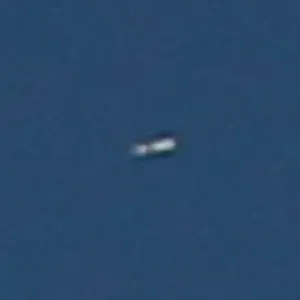 This is likely a plane's fuselage. But it just seemed awfully high in the sky for a commercial plane. What do you think it is? Satellite? Aliens?