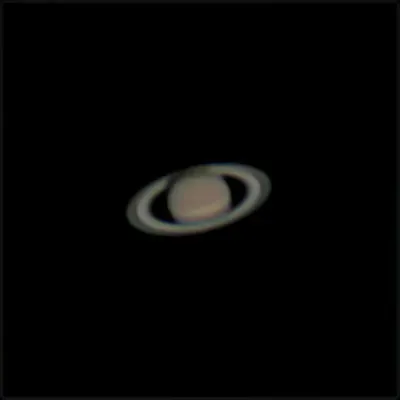 I'll suppose that most people's shower thoughts concern their worries of family, or finances, or their job, or some things thereabouts.  For me, I'll be more apt to wonder if I aggregated enough videos in post-processing.
And that is precisely what happened in the past day. Recently, I have been catching up on my backlog of astrophotography imaging, dating back nearly a year. In particular, I am finally getting to work on the Mars images I took from July through September of last year, at and shortly after the planet's close opposition.
But buried among those raw Mars images was one set I completely forgot about – a session for Saturn in mid-September, 2018. My goal that night was Mars specifically, and as an after-thought, since it was Friday night and my telescope was already set up, I decided to take videos of the ringed planet as well.
If I recall, I was displeased with the Mars images as I began to post-process them later in the evening and into Saturday morning. Likely, I had planned to get back to them later, but never did, at least while Saturn was still on that side of the Sun.
Fast forward 10 months, and thanks to my journal, I discovered the videos, and how I arranged the sets, and the camera's settings. I've been having good luck with Registax wavelets, so I worked them, and was very please with the results.
Yet I also was programmatically stacking Saturn three videos at a time. Why? Because I usually have Jupiter on the brain when it comes to this subject, and Jupiter necessitates the three-video rule, as all of my videos are a max of 30 seconds. Jupiter rotates incredibly fast, so fast that you really can't stack a video sequence past about 90 seconds.
But Saturn is different because it rotates much slower.
And this is where my shower thought arrived tonight. Why was I stacking only three videos at a time? I could go past three, certainly, at least doubling the number. The results were already good. So I found my two best sets by way of focus, and stacked those six videos. The results are shown in this post.
I am very please with the result. It rivals my best prior attempts. And this exercise was also a reminder and lesson that astrophotography can be a convoluted practice, with no right answer, and sometimes needing a shower's inspiration to make progress.
Summary of my equipment, settings, and software used:
Telescope: Dobsonian reflector 254mm / 10″ (homemade)
Camera: Canon EOS Rebel SL1
Barlow: TeleVue Powermate x5 1.25″
Filter: Baader Neodymium 1.25″
Canon T ring and adapter
Relevant camera settings:
ISO 1600
Exposure: 60
Created four sets of three videos 24-29 seconds each, used the first six videos for this post's image
Software for post-processing:
PIPP
Autostakkert
Registax 6
PaintShop Pro for final minor touchups