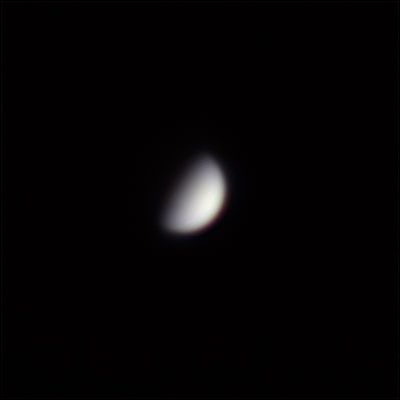 March 4th, 6:40 p.m. local time
Venus is still a remarkable and bright experience, in the West sky shortly after Sunset. I dragged my Dobsonian outside for the first time this year tonight, and took a few sets of videos to stack. Above is the result, which nicely shows the planet's current silhouette as it faces, relative to Earth, the set Sun in the West.
If you're up at dawn, you can see Jupiter in the East. I assume Saturn is near Jupiter as well, but I haven't been able to find it, and my view in that direction is largely blocked. But in a clear morning sky, it's hard to miss Jupiter right now, even through the obstructions of leafless trees.
Going to be a fun planet-viewing year – Venus now, and later, the conjunction of Jupiter and Saturn, and Mars's next opposition.
Image settings/equipment for reference:
Homemade Dobsonian telescope, 254mm
TeleVue Barlow x5
Neodymium filter
Canon EOS SL3
f/00 (infinity)
1/1000 sec exposure
ISO 400
Stacked 4 ~24 second videos, HD at 60fps